Toothbrush Timers Can Make Brushing Fun for Kids!
Posted on October 27th, 2021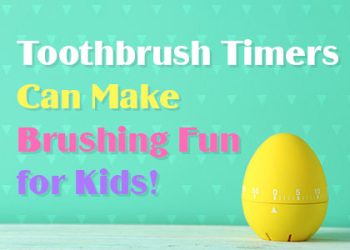 Many parents wonder how to get—and keep—their kids interested in brushing their teeth. A wall chart with stickers may be enough, but some kids get bored more easily than others (especially in today's digital age). 
While you may wish at times that your kids didn't spend so much time online, technology does offer some positives when it comes to keeping kids motivated about regular oral hygiene. Dr. Roger Sepich at Saxonburg Dental Care would like to share some ideas about using digital resources like toothbrush timers to help kids get into the habit of taking care of their teeth.
Online Videos
Enter the words "toothbrush timer" into the YouTube search bar and prepare to be amazed! (Other word combinations like "kids tooth brushing" work well, too.) You will find thousands of short instructional videos, often with cartoon animation, about how great it is to brush your teeth. Themes include some familiar friends (Disney, Pixar, and Star Wars characters, superheroes, and more!) and some have original characters kids have probably never seen before. 
There are also videos of real kids learning to brush their teeth. Most toothbrush timer videos range in length from 60 seconds to 4 or 5 minutes, and many include fun songs to brush to. Longer videos usually delve into more dental detail, elaborating on subjects such as plaque and cavities, and why teeth need brushing and flossing daily. The best thing of all: most of these videos are free!
Smartphone Apps
When it comes to smartphones, "app" is short for "application"—the average person downloading apps usually does so to a mobile device like a smartphone or tablet, but apps exist for regular desktop computers, too. Different devices have different selections of apps to choose from, but "toothbrush timer" should bring up many results no matter what kind of device you use. 
Many toothbrush timer apps incorporate familiar TV and movie characters to make them more fun for kids —just as the online videos do. Some apps are free, while some cost only a dollar or two. Either way, the results will be worth it!
Brushes with Built-In Timers
Interactive battery-powered or electric toothbrushes with built-in timers are available for kids with fun colors and themes. Some of these toothbrushes coach kids through the entire process, going through the parts of the mouth one by one and even congratulating them at the end! Nice work! 
Your budget and your child's age and stage of development will probably influence your choice of this type of toothbrush. The battery-powered type is much cheaper, but also more disposable, only lasting a couple of months.
Other Ways to Time Brushing
Against the Clock

: You can use an actual timer or wall clock that has a second hand to time your child's brushing. While a kitchen timer will work, there are specially designed timers for brushing teeth that will chime after two minutes. Over time, your child will get the feel for how long brushing teeth for two minutes really takes.

Brushing to a Song

: Depending on the song's length, kids can either brush for the entire song or take "spit breaks" so they can sing along to the chorus and resume brushing after they spit. This makes the process more fun —and the time it takes to brush will probably seem to pass faster.

Brushing During a Commercial Break

: Commercials can be a good time for your child to brush their teeth. Commercial breaks average about 2.5 minutes, so there is plenty of time to brush, rinse, and spit before the show comes back on, particularly if the toothbrush is loaded with toothpaste and waiting for the ads to begin. Because your child is already enjoying their show and it comes back when brushing is done, brushing their teeth may not feel as boring to them, and returning to their show is the reward!
Saxonburg Dental Care knows that even with all these resources available, getting kids into a regular oral hygiene routine can still be challenging. If you have any questions, please contact us today! We would love to help put a little fun in your child's routine for a lifetime of happy, healthy smiles.
The content of this blog is not intended to be a substitute for professional medical advice, diagnosis, or treatment. Always seek the advice of qualified health providers with questions you may have regarding medical conditions.