Pediatric Dentistry
Gentle Dental Care for Tiny Teeth
At Saxonburg Dental Care, we know your little ones mean the world to you–and we'll deliver our highest caliber of care to keep them healthy. We understand how tough it can be to manage a busy family's schedule, so we offer family appointment blocks for your convenience. Our team also does everything we can to create an interactive, comfortable environment to keep everyone's stress level low–our littlest patients have even been known to have fun when they visit. Going to the dentist doesn't have to be scary!
We look forward to collaborating with you on your oral health.
Get in touch! Give us a call or schedule a visit below.
REQUEST AN APPOINTMENT
Oral Hygiene for Kids
We know babies don't have any teeth yet, but they still require oral hygiene! You should wipe your baby's gums with a warm wet washcloth after feeding to minimize bacteria and acidity. Once their teeth begin to emerge, you can begin to brush them with a small, baby-sized toothbrush or finger brush and a small amount (the size of a grain of rice) of fluoride toothpaste to prevent "baby bottle tooth decay." Teething is fun, isn't it?
You should floss baby's teeth regularly as soon as teeth begin to touch each other. You should brush for them until they have the ability to do so themselves, which usually coincides with the ability to tie their own shoes – around age 6. You should continue supervising brushing and flossing until you are confident they are doing a good job on their own.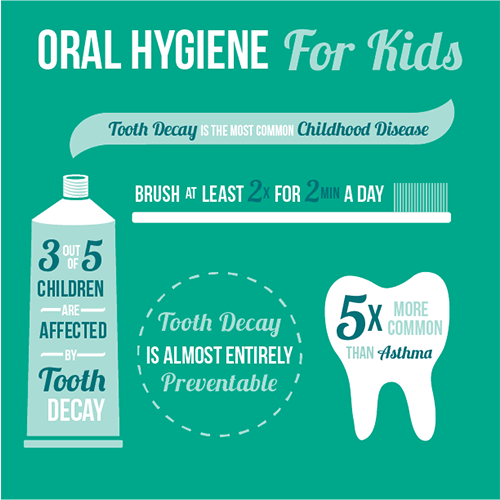 The Importance of Baby Teeth
Healthy baby teeth set the stage for a lifetime of happy, healthy smiles. Many folks don't realize the importance of pediatric dental care and oral hygiene for kids because their baby teeth are going to fall out in a few years anyway, right? Wrong! Baby teeth are much more susceptible to tooth decay, and decayed or lost baby teeth can interfere with nutrition, speech development, and proper alignment of future adult teeth.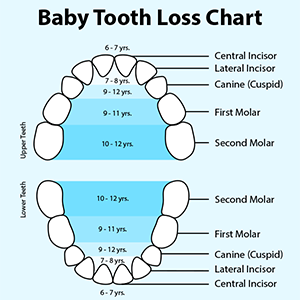 Their First Dental Experiences
You should bring your baby in to see us by the time their first tooth emerges, usually around 12 months or one year of age. We want to do a thorough exam at this stage to ensure everything is developing properly, and to catch any potential problems before they become serious.
We know many kids are shy, or they are fearful of the dentist. That's why we do everything we can to make them feel relaxed and comfortable in our care. Dr. Sepich and our team are great with kids to welcome them with open arms and a smile. We'll ask them questions, crack some jokes, and teach them the importance of taking good care of their teeth. We'll also be sure to reward them when they're all done so they'll leave with a smile and positive feelings about the dentist.
Sealants
With the high rate of tooth decay among children, sometimes they need a little extra protection to prevent cavities. We're happy to offer dental sealants to help prevent tooth decay. Sealants are a tooth colored resin material that painted onto the surfaces of teeth that block out decay-causing bacteria. Sealants have been shown to reduce formation of cavities in baby molars by as much as 80%!
For more helpful information on keeping your family's smallest smiles clean and healthy, check out the American Academy of Pediatrics advice on Baby Tooth Care.