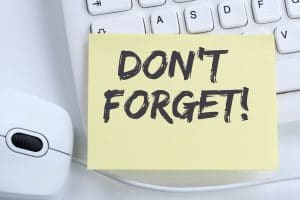 As you have learned, our priority is your smile care. While we would love for this to become your priority as well, we know that it might begin with some motivation and some reminders from our Saxonburg, PA team. We are happy to furnish with you with such assistance, of course, so you may take the best care of your smile possible. Generally speaking, our reminders will include our encouraging you to schedule checkups and cleanings twice a year, and similar topics. As for the winter holiday time that is quickly head our way, well: We're going to need to suggest things with a bit more urgency and specificity because this time of year gets quite hectic. Here we go!
Reminder #1: Holidays Are Busy, So Schedule Your Preventive Visit
Of course, we will always remind you to schedule checkups and cleanings. However, we won't usually be worried that you might miss out on your second annual preventive visit or something else that you need because the beautiful twinkling lights and coziness of the holidays have veiled your usually very clear focus! Remember:
If you need your second visit with us for your professional preventive smile care, call us very soon and we will work with you to set up a visit that fits in with your holiday schedule.
If you don't need your next visit until 2019, call us before the holidays anyway, so you're prepped for the beginning of the year (and not worrying about calling us close to celebration time).
Reminder #2: If You Want A Winter White Smile, Call Now!
We know that one of the smile care details that pop up around this time of year includes cosmetic improvements. Suddenly, you realize the time of year, you rush to the mirror, and you're not at all happy about your yellowed grin. What will you do to feel party ready, you ask? Talk with our team, of course. We offer teeth whitening (and more) to save the day.
Reminder #3: Ignoring Problems Until "After The Holidays" Is Risky
Don't put your toothache or other issue off until 2019. While you might think you have the time, this could end up not working out in your favor. See us very soon!
Get Your Smile Care Planned Early With Our Team
Whether throughout most of the year or during the holidays, remember that getting your visits set up a bit early is always to your advantage. Call soon! Receive comprehensive, comfortable personalized dental care in Saxonburg, PA by contacting Saxonburg Dental Care today at (724) 352-4440.